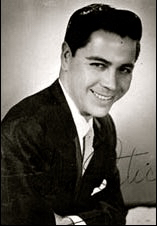 During most of the 20th century, the world of Latin pop music was dominated by a handful of countries – Mexico, Cuba, Argentina, and of course, Spain. But in the 1950s, an exception to that rule became a sensation. His name was Lucho Gatica, and he came from Chile.
            Gatica emerged from a small town in central Chile to become one of the most popular Latin American vocalists of all time. In a career that spanned 70 years, he sold millions of records around the world, packed theaters and stadiums from Madrid to Manila, starred in movies, and became a celebrity in Hollywood where his friends included Frank Sinatra and Ava Gardner.
            The singer's success was built on his unique ability to convey the romantic, lyrical, and passionate essence of the song style known as the bolero. His repertoire includes many distinctive interpretations of compositions still considered classics of the genre. Add to that his matinee-idol good looks and his on-stage charisma, and Gatica was destined for superstar status.
            Last month, the voice of the artist known as El Rey del Bolero was silenced forever. Gatica passed away at his home in Mexico City.  He was 90.