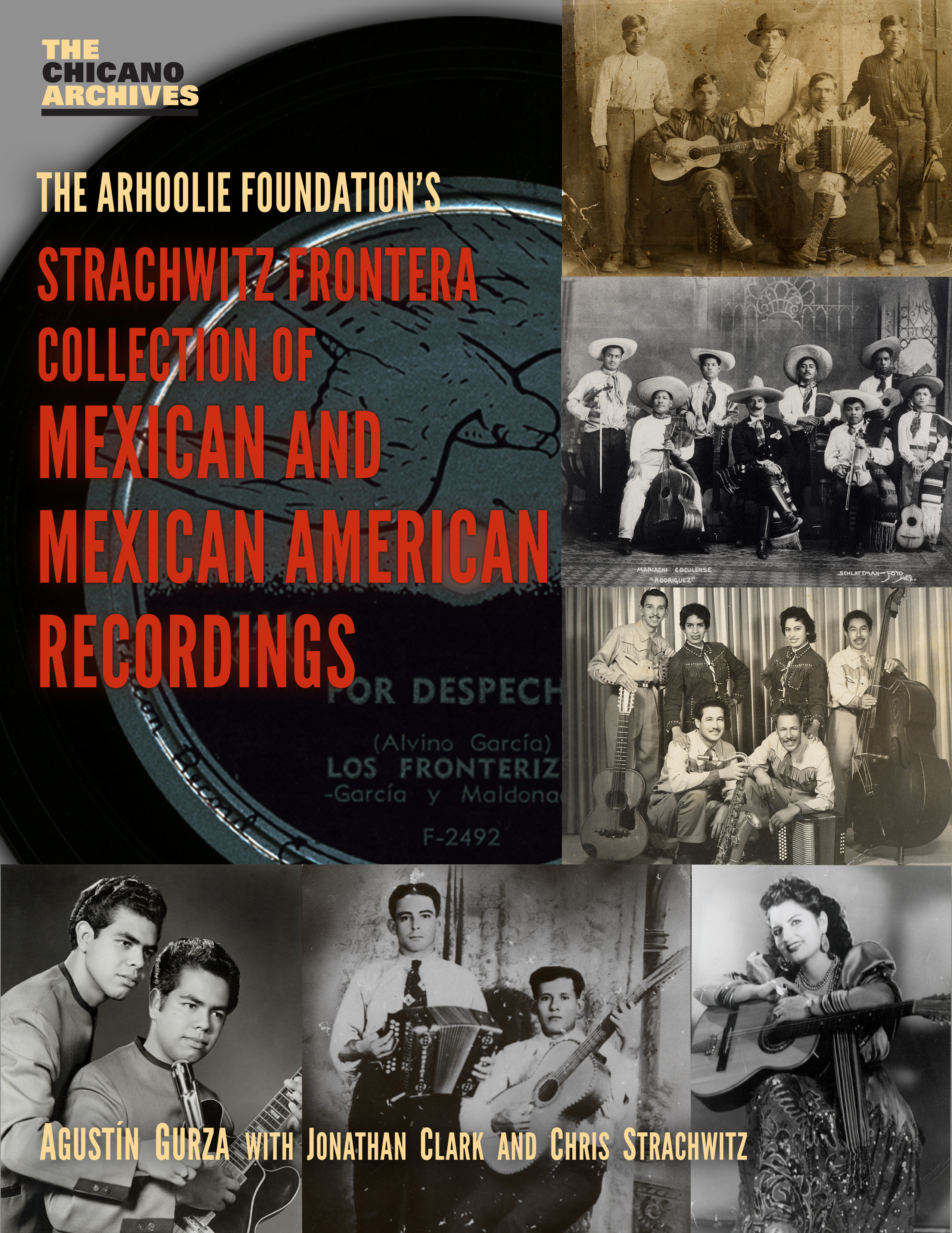 The critically praised research guide to the Frontera Collection, published by the UCLA Chicano Studies Research Center Press, was recently given the award for Best Discography in the category of folk, world or ethnic music research, by the prestigious group of music and audio specialists, the Association for Recorded Sound Collections (ARSC). This month, the ARSC will officially present the honor at its formal awards banquet during its annual conference scheduled May 15-17, 2013, at Chapel Hill, North Carolina.
The book, written by Agustin Gurza with contributions from Jonathan Clark and Chris Strachwitz, explores multiple aspects of the digital archive, one of the largest and most valuable collections of recorded Spanish-language music in the world. The unique collection of  78s, 45s, cassettes and LPs, focuses on Mexican and Mexican-American border music, but includes many other genres from Latin America and the Iberian Peninsula, including rumba, flamenco, tango, mariachi bolero and many more. The physical collection, which belongs to the Arhoolie Foundation, was amassed over the past four decades by Strachwitz, founder of Arhoolie Records and a renowned expert in various forms of American roots music. Strachwitz is slated to be part of a panel on re-issues of vintage country, blues and roots music, scheduled on the opening day of the conference. The awards banquet is set to close the three-day event the following Saturday at the Sheraton Chapel Hill, serving as conference headquarters.
The Frontera Collection book was created as a guide to the digital archive and as an invitation for further research into the rich cultural and social history reflected in the music. Aside from original articles and essays reflecting on the music and its creators, the book includes extensive lists, or discographies, highlighting different aspects of the collection. The lists, for example, include a catalog of all the two-part corridos on 78 rpm discs contained in the collection, as well as a ranking of top songwriters, performers and genres. Gurza also surveyed more than 40,000 individual recordings in the collection to select the Frontera 400, a list of popular songs that form part of the Latin American songbook, showing the wide diversity of styles and genres in the collection.
Begun in 1991, the ARSC awards are presented to authors and publishers of books, articles, liner notes, and monographs, to recognize outstanding published research in the field of recorded sound. In giving these awards, ARSC recognizes outstanding contributions, encourages high standards, and promotes awareness of superior works. Two awards are presented annually in each category—one for best history and one for best discography. Certificates of Merit are presented to runners-up of exceptionally high quality. The 2013 Awards for Excellence honored works published in 2012.
The Arhoolie Foundation's Strachwitz Frontera Collection of Mexican and Mexican American Recordings also received three 2013 International Latino Book Awards: 1st Place, Best History Book (English); 1st Place, Best Reference Book (English); and 2nd Place, Best Nonfiction Multi-Author.
-AgustÍn Gurza
Tags
Images